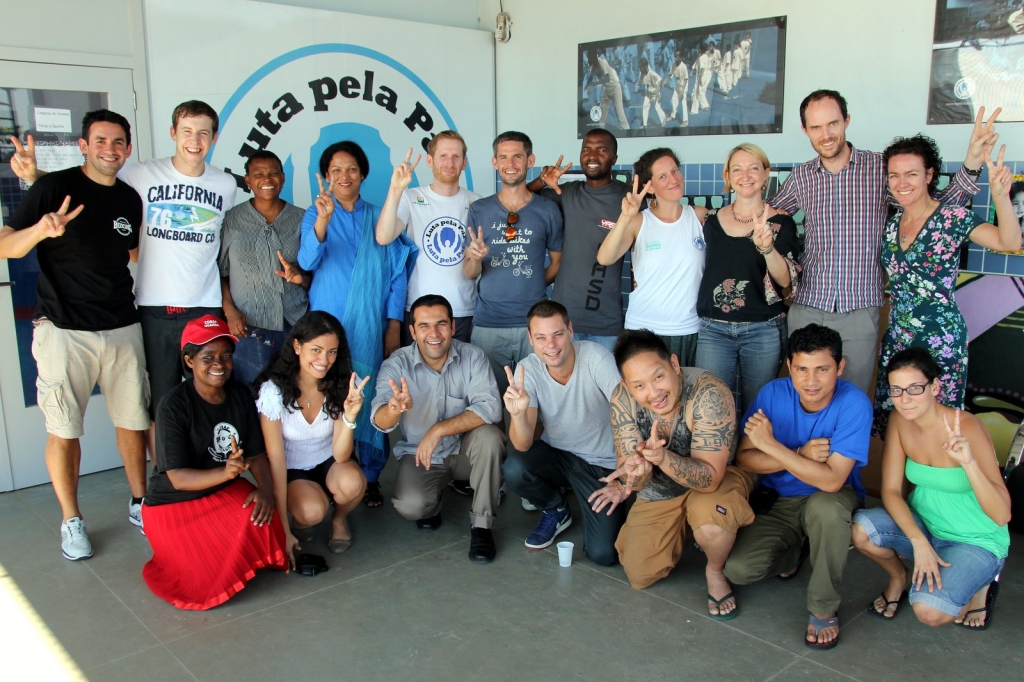 We are pleased to announce Bristol Boxing Gym/Empire ABC have become part of the Global Alumni for Fight for Peace after completing a week's intensive training in Rio, Brazil.
Fight for Peace's Global Alumni programme began its second course of the year this Monday 3 December with organisations from nine different countries arriving in Rio de Janeiro to take part. The representatives from each organisation will spent six days attending the course, which teaches the methodology of Fight for Peace's work in Rio de Janeiro and London, at the Rio headquarters academy in Nova Holanda, Complexo da Maré.
Fight for Peace's Global Alumni Programme was launched in 2011 and in the next three years will see 120 community organisations take part.
This is a great opportunity for our gym to implement this proven approach to working with youths in St Pauls and across Bristol.
This second group of 2012 contains participants from all over the world and you can get to know a little bit more about them below:
ASOCIACIÓN DEPORTIVA CULTURAL BOXEO VMT
LIMA, PERU
Boxeo was founded by two professional boxers who work voluntarily to help people from their local community. The project offers boxing classes, provides spaces for graffiti and music activities such as rap as well as offering psychosocial support and counselling services.
ASSOCIATION FOR THE DEVELOPMENT AND ENHANCEMENT OF WOMEN
CAIRO, EGYPT
ADEW works to improve rights for women. They offer literacy and numeracy classes, safe sport activities, support systems, legal assistance, credit initiatives and health help.
COMMUNITY BASED AIDS PROGRAMME (COBAP)
KAMPALA, UGANDA
COBAP works in Kampala to provide support for people affected by HIV/AIDs. They operate a youth intervention project that aims to address drugs, gangs, violence and HIV through sport projects.
EMPIRE BOXING CLUB
BRISTOL, UNITED KINGDOM
Empire Boxing Club was established in 1970 and has produced two world champions, five European champions and a number of UK champions. The club works in an area of Bristol that has high levels of gang, drugs and violence.
NARI UDDUG KENDRA
MOHAMMADPUR, BANGLADESH
Nari Uddug Kendra (NUK) means Centre for Women's Initiatives. NUK are a women's development organisation that works towards the promotion and protection of human rights and gender equality. As well as running gender awareness training they also run a Karate school.
NEPAL BREAKDANCE FOUNDATION
KATHMANDU, NEPAL
The Nepal Breakdance Foundation, also known as B-Boy, B-Girl places trained young people with schools, dance institutions and clubs as instructors to help them generate income.
SKILLSHARE INTERNATIONAL
GABORONE, BOTSWANA
Skillshare International works in a refugee camp where 3,000 people live permanently. It runs education and ICT classes and hopes to use boxing to improve attendance amongst the hardest to reach young people.
SOCIAL WORK FOR INTERNATIONAL DEVELOPMENT
KATHMANDU, NEPAL
SWD delivers youth programmes such as education training, social work training and sports coaching. Their aim to is provide services that bridge the gap between the state and the hardest to reach people in society.
YOUNG ACHIEVEMENT SPORTS FOR DEVELOPMENT
HARARE, ZIMBABWE
YASD seeks to tackle the two main problems in the slum areas of Harare – illiteracy and drug abuse. They implement sports projects such as street soccer, educational support, recreational therapy and psychosocial support programmes.