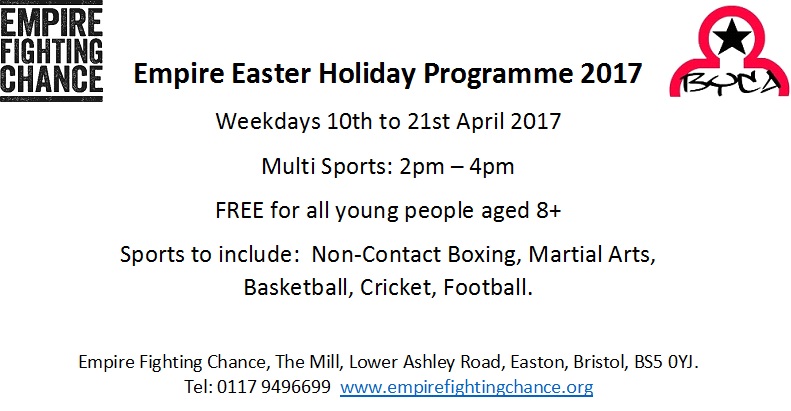 Empire Hosts Easter Activities Programmes at The Mill
Following the fantastic success of our Summer programme in 2015/2016 Empire Fighting Chance have opened their doors in efforts to keep children off the streets of Easton & St. Paul's. Through taking part in sport-based activities children are encouraged to attend every week day over the Easter period, fully free of charge.
The programme is funded by Bristol Youth & Community Action (BYCA) with the aim to help break down barriers between children from different areas and ethnic groups in Bristol. Also to help them build their confidence by improving levels of fitness and giving them the opportunity to socially interact with children of similar ages as well as reducing the risk of involvement in anti-social behaviour.
The programme comprises of Boxing and Multi Sports sessions taken by the professional coaches at EFC. The programme is open to everyone and there is no need to book just bring the young people to the Empire Fighting Chance, The Mill, Easton, BS5 0YJ. Sessions will run from 2pm – 4pm.
Call 0117 949 6699 for more details.