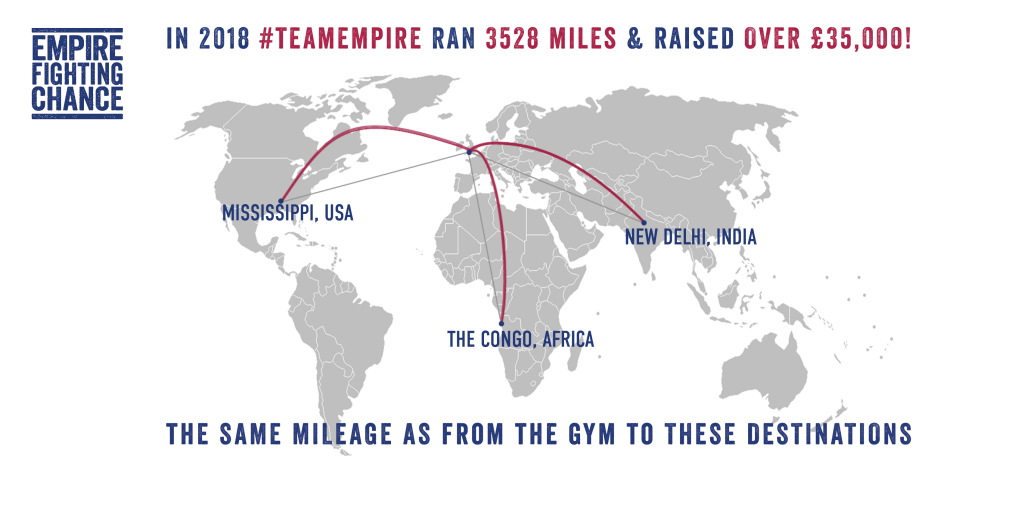 #TeamEmpire is a group of amazing people who have one major thing in common – they are all dedicated to transforming the lives of young people.
Those in #TeamEmpire do this in many ways, from long-distance running, to cycling or baking. From fundraising on Facebook to making us Charity of the Year in their workplace.
#TeamEmpire is a community of people built around the understanding that by doing something individually for Empire Fighting Chance, they can collectively have an enormous impact on the lives of the young people we work with.
2018 was the year in which #TeamEmpire grew exponentially, with hundreds of people engaging with Empire Fighting Chance through sponsored challenges, individual fundraising activities, advocacy and volunteering. Every second that #TeamEmpire committed to Empire Fighting Chance was a second that helped to change a future for a young person. And every penny raised was a penny that helped a young person to raise their aspirations.
In 2018, #TeamEmpire….
Ran 3,528 miles
Welcomed 18 Business Champions
Represented Empire Fighting Chance in 11 running events, including one in the USA!
Interviewed and featured on ITV News
Hosted a multitude of activities like Family Fun Days and raffles
Conquered 200 Mud Run obstacles
Ran enough miles to take you from our gym in Easton, to New Delhi in India!
Raised over £30,000 for Empire Fighting Chance!
"Everyone felt great to be part of something so worthwhile!"

Amy – Bristol 10K Runner
Thank you so much for all of your efforts in 2018! It makes a massive difference to our young people.
To discuss your ideas for supporting Empire Fighting Chance, or for more information, contact Sophie on sophie@empirefightingchance.org