Leon has been coming to Empire Fighting Chance since July 2019, and was nominated by his Coach Ako as our Champion of the Month for April, due to his hard work and dedication in his sessions throughout this coronavirus lockdown period.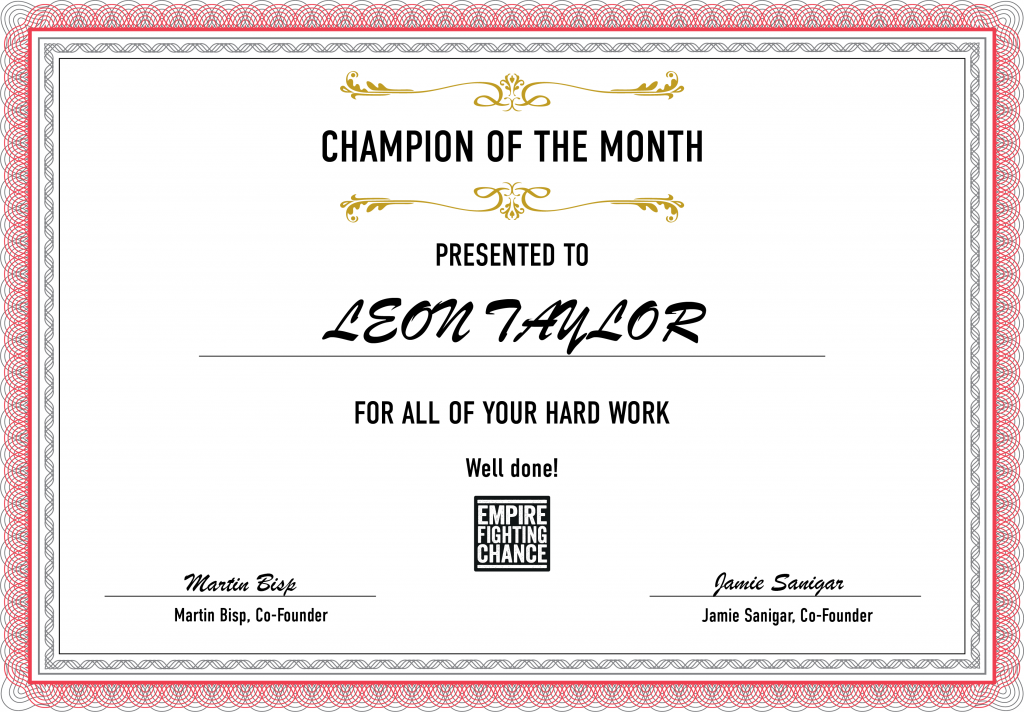 Leon's introduction to Empire Fighting Chance was a little different than usual as it happened when co-founder Jamie Sanigar broke up a fight he was having!
After pulling Leon into his office for a chat Jamie realised Leon could benefit from the 'Training with Champions' 1-2-1 programme and immediately spoke to Leon's mum about us helping.
Over time, Coach Ako has been working on Leon's mood and teaching him not to make decisions when he's angry, such as getting into fights. Since the coronavirus pandemic closed schools, Leon has had difficulty staying motivated and keeping busy.

Using our personal development point the 'magic of mini-goals', Ako has been engaging Leon in twice weekly 1-2-1 home workout sessions, and setting him up a daily exercise plan which Leon does every day whilst his mum videos the session and sends over to Ako. Not only has this been giving Leon some much-needed structure during lockdown, but it has also strengthened the bond between mother and son as Leon's mum supports his workouts.
Leon's dedication and desire to improve his fitness has seen him not miss a single session, and gives Leon something to look forward to.
Leon's mum had the following to say about Ako's work:
"Ako is doing great with Leon, the sessions are varied and keep Leon really motivated to the point where he is filming himself on the days, he's not having a session he will then send these videos to Ako. Each day Leon wakes up and is excited to get on with the tasks that have been set for him. "
"Leon is a lot less restless since having these sessions, I can't thank Ako enough for the help he has given him. "
Well done Leon, and keep up the great work!