It's been six weeks since we closed the gym doors due to government restrictions around Covid 19. During this time, we were determined to continue working with young people most in need. Our plan was to ensure that all 1:1 and therapy clients had no loss of service and these sessions began immediately from the morning of Monday 23rd March.
Once we knew we could ensure these were being safely supported, we increased the number of young people we were working with, starting from those next in need.
This, although remote, matched the way that we work without restrictions and we have been able to run the following sessions that are driven by the needs of each young person:
1:1 Sessions
– Training with Champions
– Therapy

Small group sessions

Large group sessions
During lockdown we have:
Delivered sessions intensively to 326 young people. This includes:
– 1,816 coach contact hours
– 42 young people receiving careers advice
Delivered 120 food parcels to families in need
Helen, our Family Liaison Officer, reports that families are struggling during this time, often citing our involvement as having a positive impact on their daily routines. It has been encouraging to see parents comment on how our work has helped bring families together.
As the government begin to talk about easing lockdown we are faced with greater concerns about the future. A recent government report highlighted that a number of young people we work with live in communities of massive poverty, something that we believe will get worse.
This view is shared by our ambassador and Bristol's Mayor, Marvin Rees who was quoted by Adam Poston of Bristol Live as stating:
"This is the biggest health crisis in a century. The unemployment and inequality from the economic downturn that will result from the consequences of us tackling Covid will in and of themselves generate a public health challenge of major proportions. The virus is disproportionately hitting poor people, those people living in the most cramped conditions, those least able to socially distance or isolate, those with pre-existing health conditions.

The actions we take will disproportionately impact on those least able to afford it – those living on the economic margins, those being tipped over the edge into needing food banks and signing up to Universal Credit. Those people are going to carry the price for this."

Marvin Rees, Mayor of Bristol
Even during these difficult times we are humbled by the number of people and funders continuing to support Empire Fighting Chance.
People are taking part in the 2.6 challenge and today we have launched Marathon for May where we are asking people to complete 26.2 miles throughout the month their way, fundraising for us.
We hope everyone stays safe and if you need any more information or support, please contact us on either: info@empirefightingchance.org or ring 0117 4523333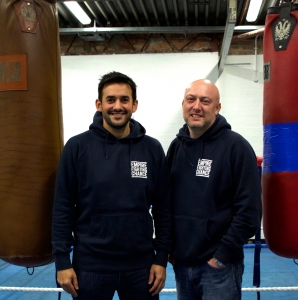 Jamie Sanigar & Martin Bisp
Co-Founders