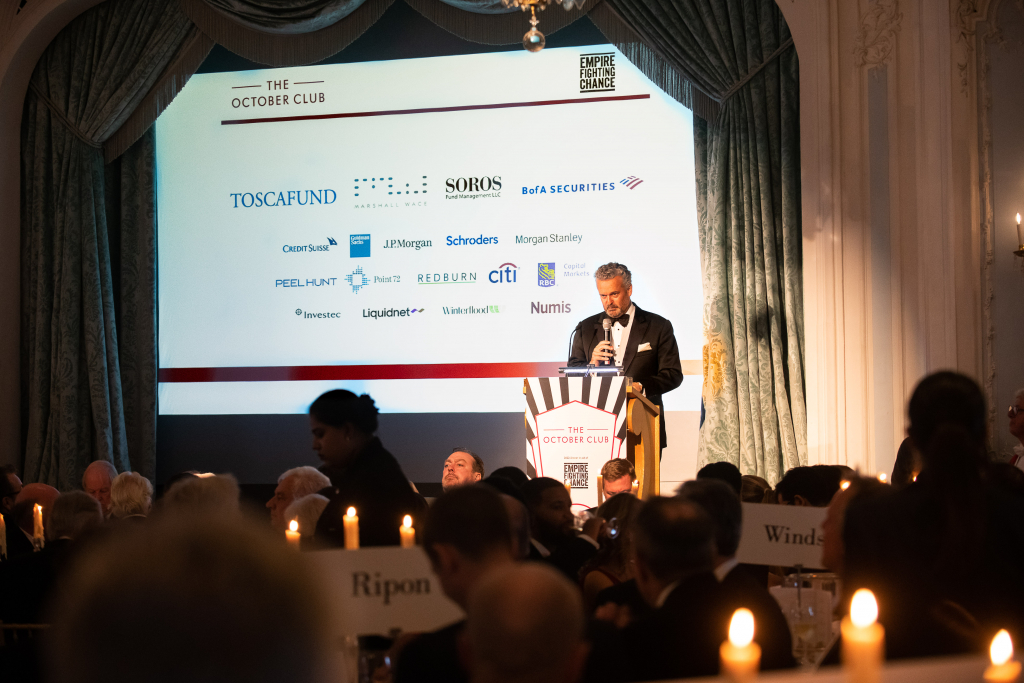 The October Club's annual fundraising efforts culminated at a dinner event at London's iconic Savoy Hotel on Wednesday 12th October, raising over £820,000 for Empire Fighting Chance, the Bristol-based youth charity which combines non-contact boxing and intensive personal support to challenge and inspire vulnerable young people to realise their unique potential.
Empire Fighting Chance was selected by The October Club, a group of city-based businesspeople to be their charity partner for 2022, and over 350 guests attended the annual fundraising event.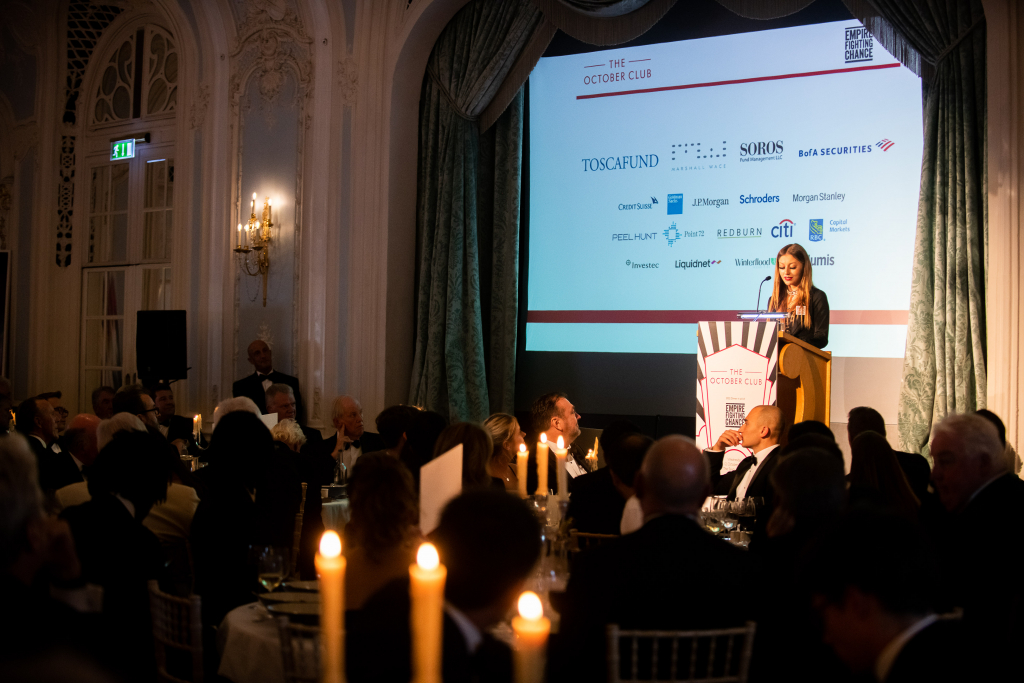 Guests heard from Kassia, a young woman who was referred to Empire's boxing mentoring programme when she was experiencing severe depression. She credits the charity with saving her life, saying, "I genuinely don't think I'd be here without Empire, and I especially don't know where I'd be without my coach."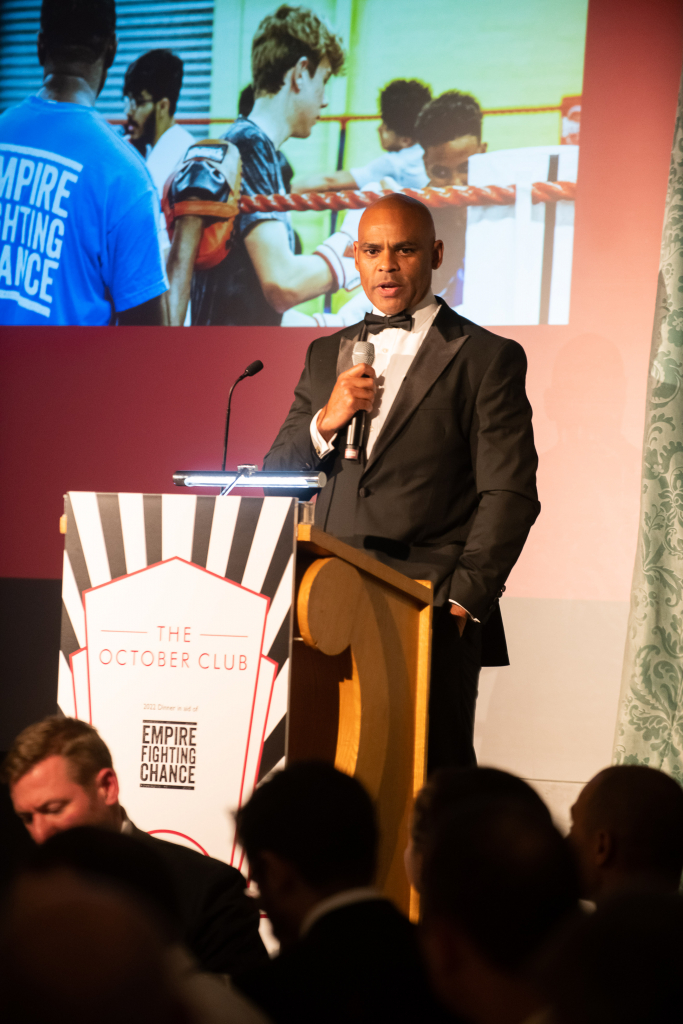 Charity ambassador, the elected Mayor of Bristol, Marvin Rees, also spoke about seeing first-hand how Empire's interventions can inspire hope in young people and their families.
Towns and cities around the country are facing a crisis in youth violence and mental health, with deprivation increasing the risk of trauma and exposure to violence for young people. With the added challenge of the current cost-of-living crisis, the problems in support systems for vulnerable young people are only likely to deepen – so now is the time to unleash the potential of local boxing clubs.
Empire Fighting Chance is committed to tackling these crises by breaking the cycle of trauma, poor mental health, and youth violence. The monies raised at the dinner will enable the charity to increase its impact for thousands more young people across the UK, by transforming the role of local amateur boxing clubs in deprived communities.
With this funding, Empire Fighting Chance can:
Scale its programmes, by allowing Empire to curate, undertake due diligence and onboard 25 new partner boxing clubs to increase its impact across the UK
Build an Empire, by enabling training for clubs to deliver Training with the Champions
Support and develop partnerships, by providing intense ongoing support and training, and building a network across clubs
Monitor and evaluate outcomes, by ensuring this impactful work adapts to meet monitoring, reporting and evaluation of the three-year Transformational Project
Promote systems change, by showcasing work on a local and national level, in order to drive change in mental health and youth support systems
Funds were raised on the night via a live and silent auction. Lots included a seven-night stay at a boutique hotel on Mustique, a private box at Ascot racecourse for a meeting from the 2023 fixtures, and a one-off framed piece of graffiti art by renowned Bristol artist, Dicy, which he finished with the buyer following the auction. Additionally, guests were able to make pledges to support Empire Fighting Chance's transformational project.
Chief Executive of Empire Fighting Chance, Martin Bisp, said: "Empire Fighting Chance is incredibly grateful for the generous support of The October Club. The transformational amount of money raised at the Savoy Dinner will directly support our efforts to positively impact the lives of thousands more young people across the UK, by building a network of local boxing clubs who want to transform the role they play in deprived communities.
"At a time when mental health services are not working for many young people affected by deprivation and the risk of youth violence, Empire's psychologically informed programmes give them hope. We are thrilled to be able to step up our fight for young lives with the help of The October Club."
Chairman of The October Club, Henry Knapman, said: "We know early intervention is so important when supporting young people at risk. When we met with Empire Fighting Chance and heard about their ethos, we knew it would be a charity that would bring about impactful change with our funding. Having visited the site recently, I saw first-hand the amazing work they do every day. We have a long history of being innovative in supporting smaller charities with ambitious projects, so we are really looking forward to seeing Empire Fighting Chance reach thousands more young people with its unique and life-changing programmes."