This year our partners Gloucestershire County Cricket Club were promoted to Division One of the Specsavers County Championship. Congratulations!

During the pre-season, several of our young people were offered to opportunity to switch roles and become a boxing mentor for the cricket professionals.
As they have completed their 20-week programme, working with their own boxing mentor, they have gained the confidence needed to direct someone else on how to learn the skills they have learnt.
Steven, Dontae, Matt and Iestyn were paired with Gloucestershire's Will Tavaré, Miles Hammond and Stuart Whittingham, and put them through their paces for several weeks before the cricket season started.
Despite being trained and fit professional, the pro's admitted that the young men were putting them through their paces!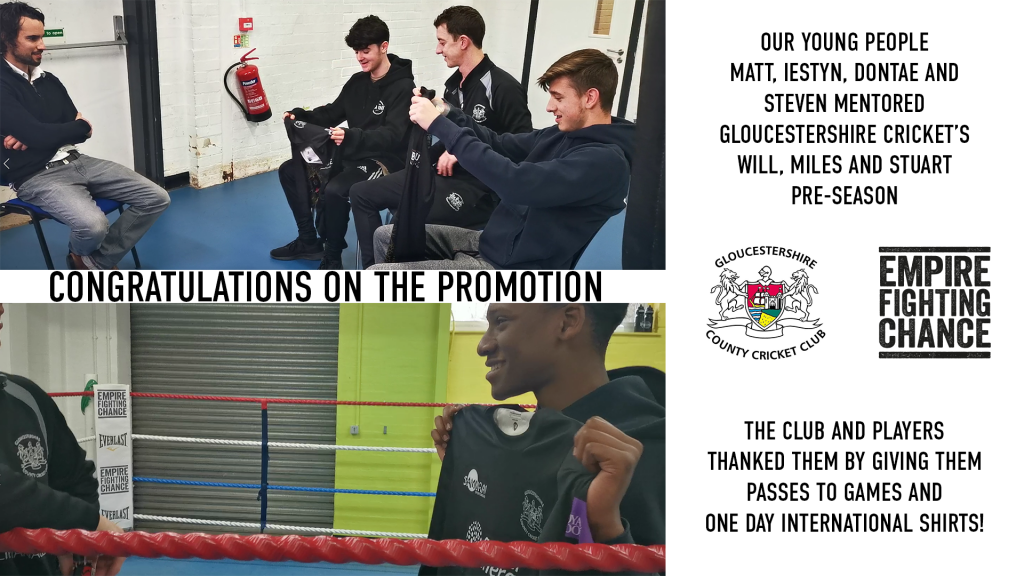 As thanks for their efforts, the club and players thanked their mentors by arranging for free passes to games, and giving them their own one day international shirts.
Thanks to everyone at Gloucestershire County Cricket Club for organising this! We know that Dontae, Matt, Iestyn and Steven really enjoyed becoming the trainer, and I'm sure they'll take pride in knowing that the training helped contribute in some way to a successful promotion!
We also would like to wish Will good luck on his retirement.